Dizo Buds Z vs Oppo Enco Buds: Specs, Price Sound Quality Comparison
Dizo Buds Z vs Oppo Enco Buds: In this post, we are going to review and perform a detailed comparison between most selling Oppo Enco Buds vs Dizo Buds Z (which is the newly launched latest Dizo tws earbuds) to find out which one is best and what features set them apart.
So you can find the best value for your money.
let the battle begin! but before we head on to Dizo buds z vs Oppo enco buds side by side comparison. First, let's review both so we can understand their specs and features more precisely.
Dizo Buds Z review (by realme)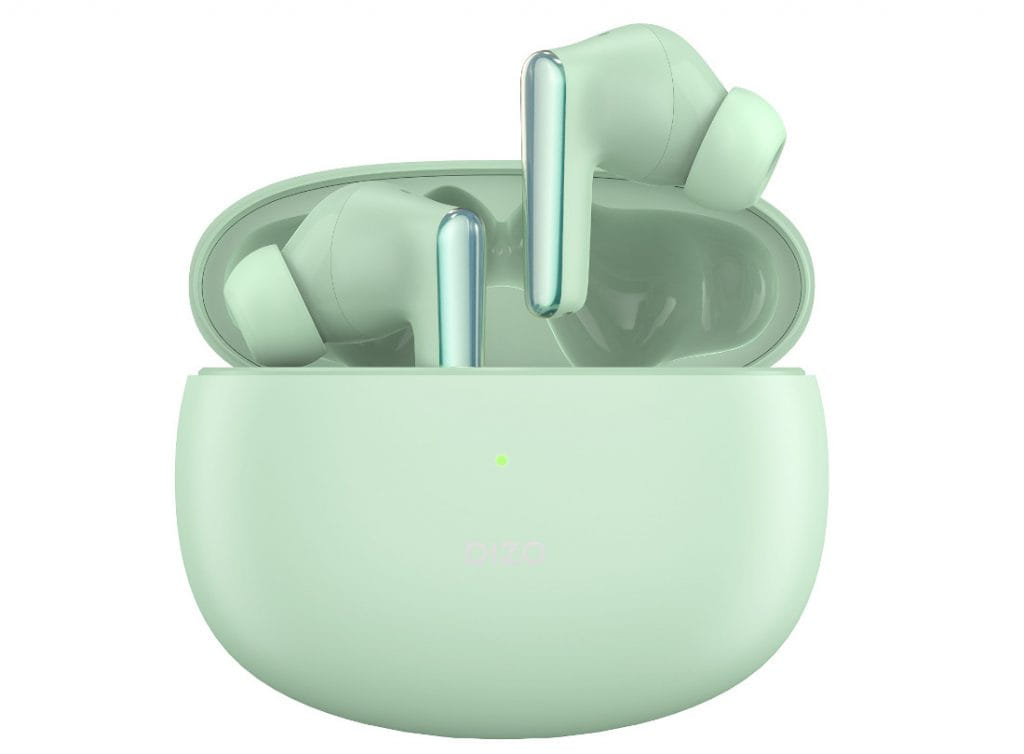 Dizo Gopods D Specifications:
| | | |
| --- | --- | --- |
| Model | : | Buds Z |
| Battery | : | 16 hours total playtime |
| Charging | : | Fast charging, Type C port |
| Driver | : | 10mm Drivers |
| Buttons | : | capacitive touch |
| Warranty | : | 12 months |
| Bluetooth | : | v5.0 |
| Other Features | : | Super low-latency gaming 88ms, IPX5 Water and Sweat Resistant, Stereo Mic with ENC noise cancelation |
Customer Ratings- Updated soon!
Realme Dizo Buds Z comes in 3 stunning colors- White, Black & lime green.
Dizo Buds Z features:
Dizo is new subbrand under Relame and Buds Z is the latest TWS earbuds launched. Which looks very stylish.
Buds Z comes with 10mm drivers with bass boost+ technology to optimize the sound experience ven more, plus the sound promising to give Immersive HD enoyment.
Each earbud weights only 3.8 grams which is very lightweight and hinting to give much comforts in ears than other TWS.
Once the earbuds with case fully charge, it provides 16 hours playtime.
Earbuds also have streo built in mic with ENC noicse cancellation for superior calling quality.
Realme Dizo Buds Z euipped with capactive touch and bluetooth 5.0V.
There is IPX5 certification to protect earbuds from water or sweat.
And the best thing, I found in Dizo Buds Z is their super low-latency gaming features which sync game's audio to 88ms and that's the best for gamers.
Earbuds comes with 12 months brand warranty.
Dizo Buds Z: Pros and Cons
Pros
Ultra lightweight and stunning looks
Amazing Sound with bass boost
Instant Bluetooth connectivity
Good battery backup with fast chaging
Link with realme app availiable
IPX5 water and sweat resistance
Super low-latency gaming mode available
ENC for calling quality
---
back to menu ↑
Oppo Enco Buds Review
Oppo Enco Buds Specs:
| | | |
| --- | --- | --- |
| Model | : | Enco Buds |
| Battery | : | 400mAh, 24 Hours with case and 6 Hrs with Buds |
| Charging | : | Type C, fast charging |
| Driver | : | 8mm Drivers |
| Buttons | : | capacitive touch |
| Warranty | : | 12 months |
| Bluetooth | : | v5.24 |
| Other Features | : | 80ms low-latency game mode, IP54 Water, Dust and Sweat Resistant, Fast connectivity, Built-in mic, Noise Isolation |
Customer Ratings- 4.2 Stars out of 5 (Overall total)
Sound – 4.2
Bass – 4.1
Design – 4.1
Battery – 4.3
Value for money – 4.2
Oppo Enco Buds are latest launched wireless earbuds by Oppo brand which comes under very affordable price tag with amazing sound quality so lets checkout it's feature.
Oppo Enco Buds Features:
Oppo Enco Buds equipped with 8mm sound drivers to deliver power sound performance with heavy deep bass levels with acoustic HD audio experience.
These wireless earbuds powered with 400mAh for battery backup.
As for the Oppo Enco Buds battery life, it comes with 24 hours battery backup and 4 hrs playtime backup for earbuds.
It has also call isolation in mics, so whenever you are in road or surrounded by some noise, don't dorry it will just isolate your clear voie to other person on call.
For charging the case, type c port available, which can charge in fast speed, within 15 mins charging you can enjoy 1 hours playtime..
It is IPX5 certified which makes enco buds sweat and water resistance.
Oppo Enco Buds comes with latest bluetooth V5.2 for better breaking free connectivity.
And the most unique feature which it comes Left/Right Simultaneous Bluetooth Transmission.
The best part. it also supports low latency upto 80ms, Which makes oppo enco buds ideal for gaming.
Touch functions is very time saving and almost everything you can do just by taping the touch sensors on the earbuds but they are little bit complicated like,
Tap once Pause your music
Tap twiceSwitch songs or answer/end a call
Tap three timesActivate Game Mode
Touch and holdAdjust volume
Oppo Enco Buds Pros and Cons:
Pros
Very lightweight
Good battery backup
Amazing sound quality with haeavy bass
Call isolation for better call quality.
Ideal for gamers as it support 80ms low latency.
Cons
Noise Cancellation is not so good, jst average.
---
back to menu ↑
Dizo Buds Z Vs Oppo Enco Buds side by side comparison: What's the difference



Overview
Description
Brand/Store
Availability
User Rating
Review
General
Model Name
Headphone Type
Sweat Proof
Color
Weight
Features
Water Proof
Water Resistant
Solo Pairing (Single Earbud)
With Microphone
Mic
Voice Assistant
Game Mode
Buttons
Audio Features
Headphone Driver Units (mm)
Deep Bass
Low Latency
Noise Cancellation
Other Features
Connectivity
Bluetooth
Bluetooth Version
Bluetooth Range (m)
Charging Port
Battery Features
Battery Capacity (mAh)
Charging Technology
Charging time
Battery Life (hrs)
Battery & Charging
Battery Type
Specification
Battery Output (V)
Sensitivity (dBmW)
Inline Remote
Sales Package
Connectivity
Headphone Design
Monaural
Magnet Type
Connector Plating
Impedance (Ohms)
Technology Used
Total Harmonic Distortion
Cord Type
Microphone Driver Size (mm)
Microphone Impedance (Ohms)
Driver Type
Signal to Noise Ratio (dB)
Transmitter Battery
Headphone Power Requirement
Maximum Frequency Response (Hz)
Audio Codec
Bluetooth Profiles
Headphone Power Source
Transmitter Power Source
Transmitter Power Requirement
Indicators
Headphone Battery
Minimum Frequency Response (Hz)
Play Time (hrs)
Warranty Summary
Covered in Warranty
Not Covered in Warranty
Model Name
Foldable/Collapsible
Width (cm)
Height (cm)
Depth (cm)
Weight (g)
---
Oppo Enco Buds advantages over Dizo Buds Z
Audio Quality- Oppo enco buds has 8mm drivers optimized for good sound quality and bass while Dizo buds z ha D10mm dynamic drivers with bass boost technology.
Call Quality- Both earbuds have good mics with Enc Noise cancellation but Oppo Enco buds had also AI-enabled call noise cancellation which promises to give good call quality over calls or gaming.
Water Proof- Oppo Enco Buds is rated by IP54, which makes it Water, sweat and dustproof, on the other hand Dizo buds is only IPX5 rated.
Battery- In battery capacity and playtime backup Oppo enco buds also has an upper hand as it comes with 400mAh battery backup with up to 24Hrs playback time. Dizo Buds z has 380mAh battery with 16 Hrs playtime.
Gaming- Both earbuds are supported by Ultra low-latency up to 80ms, which is without a doubt good for extreme gaming levels. But because oppo enco buds have the upper hand in audio quality low latency works even better.
back to menu ↑
FAQ: Most asked questions about Oppo Enco Buds vs Oppo Enco W11?
Which one is better between Oppo Enco Buds vs Dizo Buds Z
Oppo Enco Buds is the best option as is more upper hand features and the latest Bluetooth v5.2 with a higher capacity battery backup.

Is Dizo Buds Z or Oppo Enco Busds good for BGMI/Free Fire?
Both TWS earbuds have special features for gaming called super-low latency which is quite amazing because while other TWS have nano-seconds delay in player action and sound sync, they provide real-time sound from games even from Free fire or PUBG like multiplayer online games.